The Washington Redskins officially locked up their spot atop the NFC East this season, which means only one thing for Patriots fans: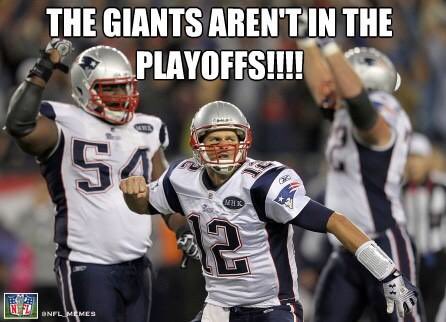 Now that the Giants are out, can we all finally admit that the Giants scared the living daylights out of us?  It's time to be honest and admit that they're the Pats' kryptonite and we are all thrilled that the "Meh" Redskins took their spot as the 4th seed in the NFC.
The G-Men somehow play to their competition no matter who's on the opposing sideline, whether it's the mighty Patriots or your family friend's daughter's flag football team.  They almost knocked off the Pats this season in what may have been the game of the year, and I'd bet that a 3rd Super Bowl between the Pats and Giants would have been decided by a touchdown or less.
Here in New England, we've been conditioned to think that the Patriots will roll through any and every opponent.  Why?  Because they do.  Watching 12 straight seasons of double digit wins kinda has that effect, ya know?  But now that the New York Football Giants are making tee time reservations for early January, let's drop the charade and admit that we're glad that the Brady Bunch gets to avoid them this year.